Organised Groups
Are you organising a visit to Postojna Cave for a larger group? Special discounts for tickets are available by prior arrangement if you let us know of your visit in advance. Buses and minibuses can use our parking facilities free of charge.
Special Offers for Large Groups
A special discounts and other benefits are available to groups of twenty or more visitors. When organising a group tour, make sure to follow the tips and rules below:
Collect your tickets at the ticket office no later than 30 minutes before the scheduled tour, otherwise your reservation will no longer be valid and the tour will be possible at the first available tour time.
Make sure to time your arrival at the entrance to Postojna Cave at least 15 minutes before the start of your tour; in peak season: 30 minutes before the scheduled tour time.
Tour tickets include basic accident insurance, so keep your tickets until you have left the car park area.
All package deals containing food and beverage services require a reservation and prior arrangements regarding the exact meal time.
Groups or tour operators are entitled to a free service for the group's guide and driver providing that they present a relevant document – a tour guide ID card or a driver ID card confirming they are with the group. The free service is non-transferable. Slovenian-, English-, German- or Italian-speaking tour guides are available for groups. There are also audio guides in 17 languages.
Groups also have the option of hiring a special guide, organising special events and special tours outside of regular tour times. A prior notice at least three business days in advance and a 30% prepayment is required. Tour participants' consent in writing is required for all adventure tours.
For further information and inquires, email sales@postojnska-jama.eu
of underground passages, galleries and halls
visitors from all over the world
since the discovery of the largest part of the cave
French-, Spanish- and Croatian-speaking tour guides are available by prior arrangement.
Food and Beverage-Related Services for Groups
Their exceptionally good location right next to the Postojna Cave entrance, a pleasant ambience and affordable prices make our restaurants an excellent choice for large groups of visitors. They are especially popular with trip organisers, as they allow them to follow trip itineraries without any additional waiting. Groups are provided with first-rate service and are served within the shortest possible time.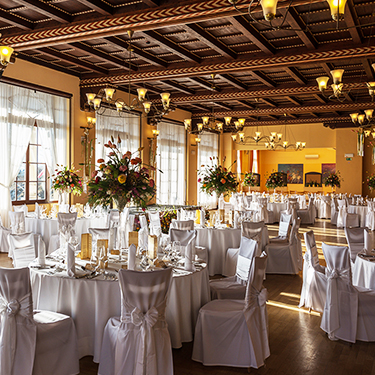 Jamski Dvorec Mansion
Exceptionally good location of the congress and culinary centre right next to the Postojna Cave entrance, first-rate and exceptionally fast service.
600 indoor/ 100 outdoor seats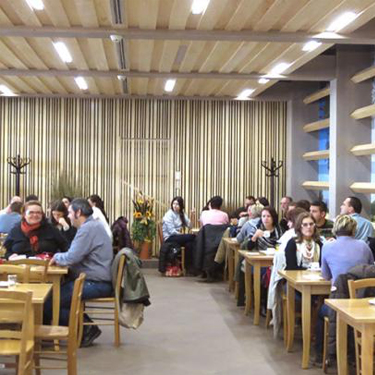 Self-Service Restaurant Briljant
A perfect choice for groups looking for a fast meal without a reservation.
150 indoor/ 150 outdoor seats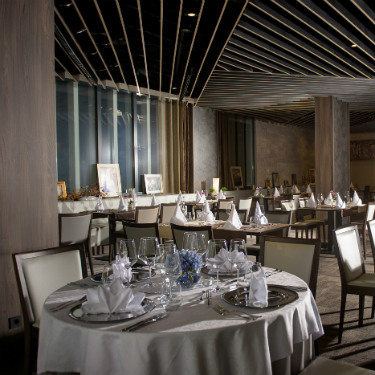 Hotel Jama
A wonderful hall with a view of the park, a peaceful setting, and a wide range of the finest culinary treats made from local ingredients. An advance notice is required. 
180 indoor / 60 outdoor seats
Special menus for groups
Choose a meal to your liking!
A1 SLOVENIAN LUNCH

Beef broth with noodles or vegetable soup

A1-M

Roast pork neck and deep-fried chicken medallion



A1-V

Cottage-cheese štrukelj and sautéed porcini mushrooms
with garlic and parsley

Slovenian-style pan-fried potatoes, country-style vegetables, seasonal salad, apple strudel
A2 - MEDITERRANEAN LUNCH

Pasta salad (bow-tie pasta salad with brined cheese, croutons and rocket)

A2-M

Veal roast with rosemary and thyme,
marinated chicken drumstick

A2-F

Oven-roasted red scorpionfish with olives and
cherry tomatoes

A2-V

Grilled marinated young cheese, seared
portobello mushrooms

Roast potatoes, Mediterranean vegetables, fruit sundae
A3 ASIAN LUNCH

Chicken soup with rice noodles, vegetables and meat

A3-MC

Chicken with vegetables and rice   

A3-MP

Pork belly with chilli, noodles with vegetables

Deep-fried coconut-coated bananas, ice cream
A4 ASIAN LUNCH

Thai vegetable soup

A4-F

Braised common perch fillet with julienned vegetables,
ginger and soy sauce, rice

A4-V

Marinated pan-fried tofu and green lentil curry,
rice   

Pineapple compote
B JAMSKI DVOREC MANSION LUNCH

Wholemeal žlikrofi with truffle sauce and grated cheese

B-M

Pork fillet with porcini mushrooms, grilled marinated
chicken thigh

 

B-V

Broccoli-cauliflower patty, mushroom casserole

 

Mashed potatoes, braised zucchini with cherry tomatoes, seasonal salad, chocolate cake
C LUKA ČEČ LUNCH
Cold cuts platter, mushroom minestrone,
mixed grilled meat, fried potatoes and grilled vegetables (250g meat: čevapčiči (grilled minced meat), pork loin, chicken skewer),
seasonal salad
sundae with fruit and artisanal ice cream
D SEAFOOD LOVER LUNCH
Squid salad with garlic bread fish soup with vegetables and rice
roast John Dory fillet with potatoes and vegetables
fresh fruit salad
Groups are provided with services of the highest quality and served as soon as possible. You are kindly asked to give us an advance notice of your visit.
Accommodation for Groups
Take advantage of the pleasant environment and spend the night in the immediate vicinity of two world-famous attractions – Postojna Cave and the Predjama Castle. Stay in the heart of the Postojna Cave Park in the legendary four-star Hotel Jama, or choose one of the suites at Apartments Proteus in the centre of Postojna, where you can stay in the summer.