The Olm on a Stamp!
On the occasion of the 200th anniversary of the discovery of Postojna Cave's most beautiful parts, Postojna Cave Park celebrates another important milestone: exactly 250 years ago, J. N. Laurenti provided the first scientific description of the olm. To mark this occasion, the Post of Slovenia issued a commemorative stamp featuring an olm.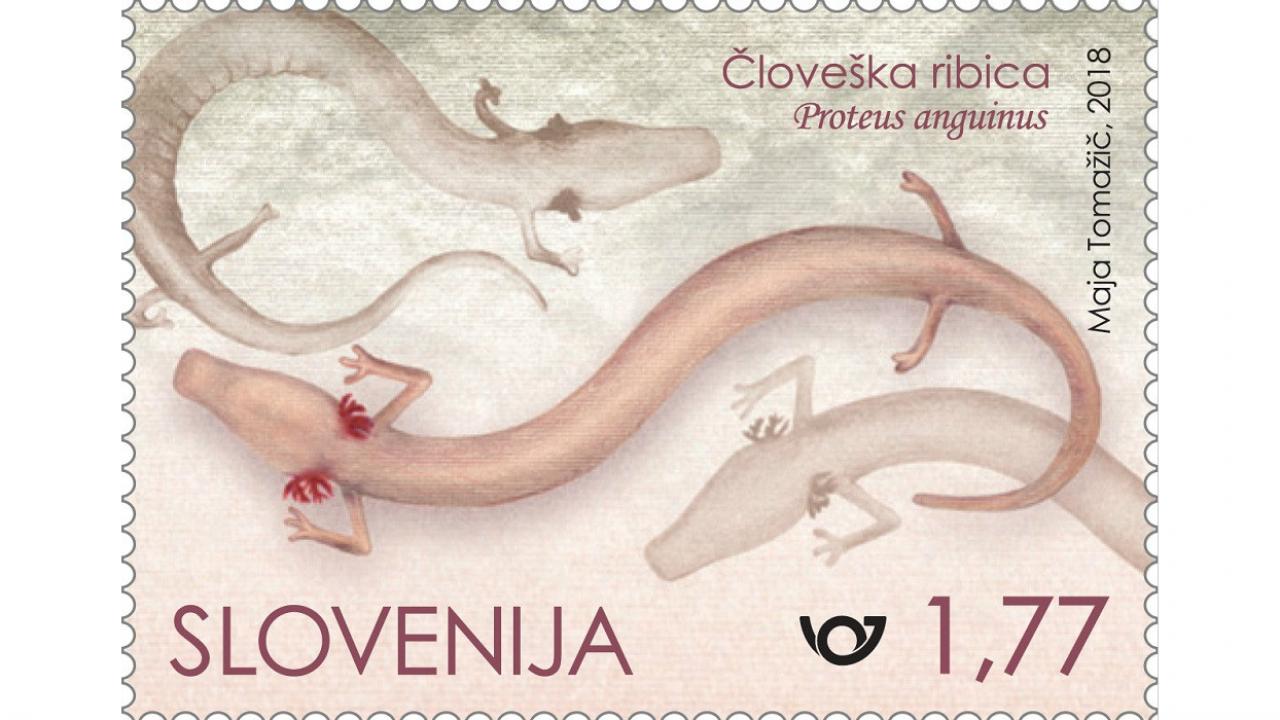 Scientists' Competition
The first person to write about the so-called "baby dragons" was the famed Slovenian polymath Johann Weikhard von Valvasor in his work The Glory of the Duchy of Carniola in as early as 1689. However, scientific research of these interesting creatures was first undertaken by the famed physician from the Slovenian town of Idrija, Ioannes Antonio Scopoli. He had received several olm specimens, recognising that he was dealing with a new animal adapted to the life in a subterranean environment, so he started working on its scientific description. Enthusiastic about the animal, he sent several specimens soaked in alcohol to his naturalist colleagues and learned friends throughout Europe. But a Viennese doctor, J. N. Laurenti, was faster than him, providing the olm's scientific description before Scopoli was able to publically announce his discovery.
The first scientific description of the olm – an incorrect one
As he was so eager to be "the first", J. N. Laurenti's description was somewhat superficial. He undertook his olm study without knowing where the animal originated from and whether the animal was an adult or at a larval stage. He described it as a surface-dwelling animal and named Proteus Anguinus after the shepherd of the sea's flocks, the Greek god Proteus.
The olm found for the first time in the Postojna Cave System
Although Scopoli assumed that the olms were adapted to subterranean cave conditions, his assumption was not confirmed until 1797, when Josip Jeršinović von Löwengreif found an olm in the Black Cave, which is part of the Postojna Cave System. With his olm discovery in the cave, Scopoli supplemented the collection of cave-dwelling animals, thus consolidating Postojna Cave's position as the cradle of speleobiology.
Today we know that...
the olm is the world's largest cave-dwelling animal (25-30 cm in length) and the only cave vertebrate in Europe.
the olm has non-pigmented skin and no eyes.
the olm's whole body is full of photoreceptors.
the olm has a well-developed sense of hearing and taste, as well as a specially developed inner ear.
the olm breathes with external gills and rudimentary lungs.
the first time the olm's reproduction was witnessed live was in Postojna Cave in 2016.